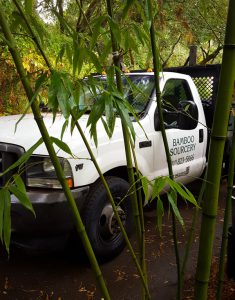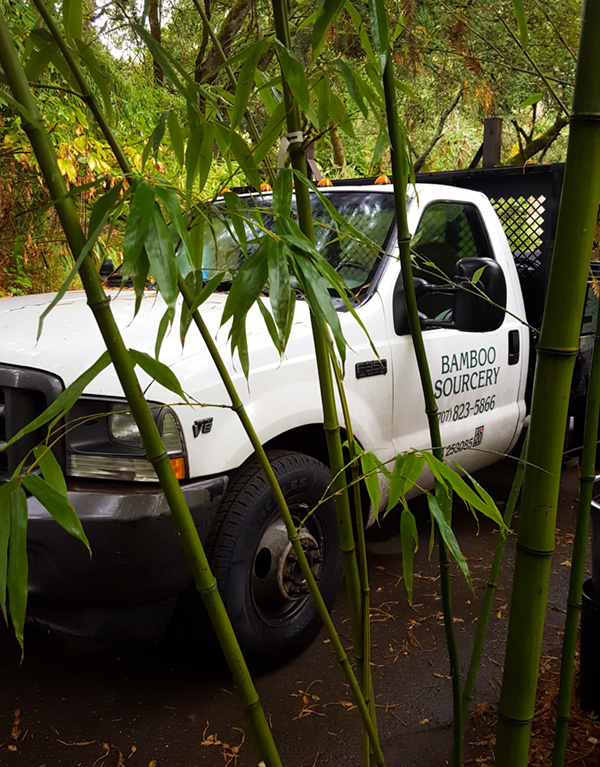 Bamboo Sourcery offers curbside delivery services throughout the greater San Francisco Bay Area. We carefully hand-deliver live plants to your doorstep in a manner that keeps them healthy and ready for planting! We also provide plant orders to commercial sites for large scale landscaping projects.
Fees vary according to your location in the Bay Area. (See table below.) We charge a flat rate for the trip regardless of how many plants are purchased. We are sometimes able to combine deliveries in a particular region and may offer a "piggyback" discount to you if you can be flexible about the time and date of your delivery.
However, we always recommend you come visit our nursery, and personally select your bamboo plants. Often, it is more economical and simple to take your bamboo home yourself! All you need to bring is a small pick-up truck, a tarp, and some rope. If you need help assessing what size vehicle you will need for your anticipated order, feel free to give us a call.
To receive a quote and schedule a delivery, please call our office. You can also schedule delivery when you're here selecting your bamboo. We do everything we can to accommodate your needs and preferences, but some flexibility on your part is always helpful!
NOTE: We don't ship live plants! Bamboo needs to stay hydrated, especially smaller plants in portable containers. Shipping dries them out so they arrive at their destination very sad looking and unhealthy. Plus, the strain of travel (via a system where they might be mishandled) may bruise or break canes, knock off leaves, or even kill the plant! We want you to be happy with your purchase, and that means we only sell directly from our nursery, and hand-deliver our happy little plants to the greater Bay Area.
NOTE: The fees listed below are a rough estimate, and subject to change based on multiple variables; please call for the most accurate pricing for delivery to your area.
| | | |
| --- | --- | --- |
| Town | Miles | Rounded Fee |
| Berkeley | 60 |  $   215.00 |
| Beverly Hills | 431 |  $   905.00 |
| Bodega Bay | 13 |  $   100.00 |
| Burlingame | 74 |  $   250.00 |
| Clear Lake | 80 |  $   250.00 |
| Concord | 75 |  $   235.00 |
| Cupertino | 102 |  $   300.00 |
| Fremont | 91 |  $   275.00 |
| Glen Ellen | 25 |  $   140.00 |
| Half Moon Bay | 84 |  $   270.00 |
| Hayward | 79 |  $   250.00 |
| Healdsburg | 27 |  $   140.00 |
| Hillsborough | 75 |  $   250.00 |
| Livermore | 96 |  $   285.00 |
| Los Altos | 98 |  $   295.00 |
| Marin | 39 |  $   165.00 |
| Martinez | 70 |  $   220.00 |
| Mill Valley | 50 |  $   185.00 |
| Monterey | 174 |  $   435.00 |
| Mt. View | 99 |  $   295.00 |
| Napa | 46 |  $   185.00 |
| Oakland | 64 |  $   225.00 |
| Palo Alto | 99 |  $   290.00 |
| Petaluma | 23 |  $   135.00 |
| Pleasant Hill | 80 |  $   235.00 |
| Pleasanton | 98 |  $   280.00 |
| Porterville | 311 |  $   685.00 |
| Redwood City | 91 |  $   280.00 |
| Richmond | 54 |  $   205.00 |
| Rohnert Park | 15 |  $   120.00 |
| Sacramento | 110 |  $   300.00 |
| San Bruno | 71 |  $   245.00 |
| San Francisco | 54 |  $   210.00 |
| San Jose | 105 |  $   305.00 |
| San Leandro | 74 |  $   245.00 |
| San Mateo | 77 |  $   260.00 |
| San Rafael | 43 |  $   170.00 |
| Santa Cruz | 135 |  $   365.00 |
| Santa Rosa | 13 |  $   110.00 |
| Sausalito | 52 |  $   205.00 |
| Sebastopol | 5 |  $     95.00 |
| Sonoma | 39 |  $   175.00 |
| St. Helena | 32 |  $   180.00 |
| Sunnyvale | 100 |  $   300.00 |
| Walnut Creek | 77 |  $   245.00 |