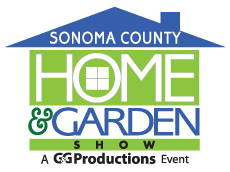 Meet hundreds of accredited local home and garden professionals face-to-face and get expert advice on your home projects! Thousands of attendees have made the Sonoma County Home Show an annual experience to get great free tips, advice, and to build relationships with trusted local contractors, landscapers, installers and more! Get ideas for your home improvement projects and get a jump on the spring renovation season!
We are SO EXCITED to connect with our community at this year's Sonoma County Home & Garden Show! We'll be offering free consultations and personalized species selection to our guests, plus a wealth of information about planting, growing and using bamboo. Visit our booth to take a look at some popular and rare bamboo specimens, and learn all about using bamboo to create living privacy screening, color, height or movement in your garden and around your home!
Our expert Joe, nursery manager Andrew, owner Jen, and Office Manager, Melissa will be on hand to answer all your questions and set appointments for nursery visits, delivery, or planting. Come learn about and purchase bamboo from Sonoma County's experts, and get a head start on your spring landscape!
Sign up for a free consult at the show!