Bamboo Sourcery provides bamboo delivery, planting/installation, removal, consultations, and maintenance services to clients throughout California's greater Bay Area region, including barrier installation, irrigation setup, and even grey water systems. We also offer custom construction to create gorgeous planter boxes and other landscaping systems to display and contain your bamboo.
The first step in getting your Bay Area bamboo project done right is to contact us and set up a consultation with bamboo and construction expert, Joe Ruffatto. Call today to schedule!
CLICK THE CATEGORIES BELOW TO READ MORE ABOUT EACH SERVICE:
Delivery
Bamboo Sourcery offers curbside delivery services throughout the greater San Francisco Bay Area. We carefully hand-deliver live plants to your doorstep in a manner that keeps them healthy and ready for planting! We also provide plant orders to commercial sites for large scale landscaping projects.
Fees vary according to your location in the Bay Area. (See table below.) We charge a flat rate for the trip regardless of how many plants are purchased. We are sometimes able to combine deliveries in a particular region and may offer a "piggyback" discount to you if you can be flexible about the time and date of your delivery.
However, we always recommend you come visit our nursery, and personally select your bamboo plants. Often, it is more economical and simple to take your bamboo home yourself! All you need to bring is a small pick-up truck, a tarp, and some rope. If you need help assessing what size vehicle you will need for your anticipated order, feel free to give us a call.
To receive a delivery quote and schedule a delivery, please call our office. You can also schedule delivery when you're here selecting your bamboo. We do everything we can to accommodate your needs and preferences, but some flexibility on your part is always helpful!
NOTE: We don't ship live plants! Bamboo needs to stay hydrated, especially smaller plants in portable containers. Shipping dries them out so they arrive at their destination very sad looking and unhealthy. Plus, the strain of travel (via a system where they might be mishandled) may bruise or break canes, knock off leaves, or even kill the plant! We want you to be happy with your purchase, and that means we only sell directly from our nursery, and hand-deliver our happy little plants to the greater Bay Area.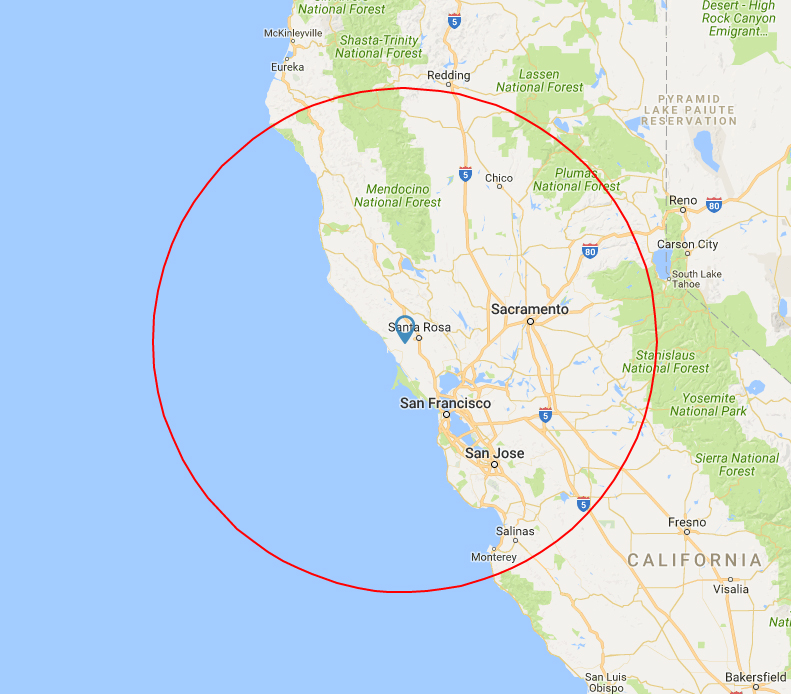 Consultations
Bamboo Sourcery provides expert consultations at your site. The basic, on site consultation fee is $200, which includes travel time, creating your estimate, and assessing your project. If you end up using our services to install or maintain your bamboo, we will subtract the consultation fee from your final invoice.
Joe Ruffatto, our bamboo and construction expert, will visit your home or work site to assess your screening needs and discuss the aesthetic choices available to you. He will recommend a planting method and containment options, measure and plan the planting, and observe the area and exposure in order to make an ideal species recommendation.
If you have existing bamboo, a consultation is often the best way we can help you troubleshoot any problems you may be having. We will give you expert advice on how to solve the problems yourself or we will give you an estimate for having us do this maintenance work.
Bamboo is a unique, beautiful and useful plant, but it does have special considerations (some can be quite invasive without proper containment). Many people, even landscape professionals, are not well versed in how to properly plant and contain running bamboo to ensure future security and a lifetime of health for the plants. We have over 30 years of experience in developing and using effective, safe methods of containment and control. When we do a planting job, we do it right from the beginning. A proper planting from the start makes bamboo much easier to maintain and enjoy in the long run, so it is well worth the time and effort to make sure it's done right. We pride ourselves in providing our customers with the best service and advice to keep your bamboo healthy and under control now and for years to come.
Please give us a call us to schedule a consultation.
Installation/Planting
Want install a beautiful bamboo privacy screen or ornamental accent in your landscape but don't have the time or knowledge to do it successfully? Let our trained staff and bamboo experts properly install your bamboo plants for healthy plants and happy neighbors!
If you have chosen a running type bamboo, we will contain it with our time tested rhizome root barrier, or in planter boxes to prevent any escape (with proper care.) Clumpers and runners alike will be carefully placed to allow for easy maintenance and to ensure maximum growth potential.
Sometimes the best solution is container planting. We fabricate and deliver custom barrier-lined and Corten steel faced redwood planters designed specifically for bamboo. We also sell galvanized tub planters in many sizes. In addition to installing your bamboo, we can also install simple, cost effective irrigation systems to keep your bamboo properly watered with little effort! We provide and deliver any and all necessary materials to get the job done right, including soil, gravel, irrigation parts, root barrier, containers, fertilizers, and more.
Our courteous and responsive crew will perform your install quickly and professionally to give you a lush and long lasting bamboo planting in your home or business. We always leave your site clean and beautifully transformed. Call us today for a custom quote and recommendations for your space.
Maintenance/Removal
We offer a full range of bamboo services to the Bay Area. The first step is to email us photos and details about your bamboo, and possibly schedule an in-home consultation with Joe to get a better idea of the scope of the project.
You can contract with us to do various bamboo maintenance services such as:

•  Annual pruning, thinning and barrier edge checks
•  Irrigation system maintenance and fertilizing
•  Division of root bound plants
•  Removal and containment of spreading running bamboo that was improperly contained or not contained in the first place.
Properly maintaining bamboo, especially older stands, will ensure the longevity and beauty of your planting. We can help with any project, start to finish, and advise you on multiple options to ensure you can get the work done within your budget and timeline.
Custom Planter Boxes for Bamboo
We build attractive, custom designed,  well-draining redwood or Corten steel-faced planter boxes that last a lifetime. Our planter boxes are specifically designed for the care and maintenance of bamboo, with easy access and removable faces for splitting and maintenance. Our custom boxes start at $150/foot; click here for photos and inspiration: Containers & Planter Boxes for Bamboo